Urban Landscapes 2018
Art Exhibition Monthly Winners
Below are the biographies and/or artist's statements along with the artist's websites or emails.
Please visit the Urban Landscapes exhibition page and contact the artists directly for purchase inquiries or to see more of their work.
Congratulations again to all the winners and thank you for sharing your talent with us.
Benjamin Erlandson
First Place Winner
Benjamin Erlandson is a perpetual skeptic, longitudinal thinker, brewer, gardener, photographer, learning systems designer, and writer of fiction and nonfiction. Combinations of his efforts often manifest as technology, visual media, and printable narrative. Having tried nearly every platter on the capitalist corporate industrial buffet, he's just not found anything to his liking. He spends quite a bit of time in the mountains and rivers instead. Mostly on foot. With another nonfiction project in the works, he switches gears between fiction, nonfiction, and photography to keep his mind limber. Trained in the liberal arts with two visual media degrees, he's been shooting for more than twenty-five years and writing creatively for more than thirty. He currently resides in Glade Valley, North Carolina, and hopes to build an ecological homestead, or just travel around the North American continent on foot, bicycle, and touring kayak, practicing photography and telling stories.
John Mazlish
Second Place
"My artistic passion involves revealing the unique beauty found in the most simple moments and places. I often see in a painterly way, having inherited an acute awareness of color, shape, mood and light from my beloved mother, who was a renaissance woman of many talents. I began my creative career as a musician, playing guitar and singing in local pubs, as well as booking and hosting an original music show. The moment I picked up my first camera, I intuitively felt a connection between music and photography. For me, creativity originates from one inner source, yet the expression of that creative energy can take multiple forms. Photographing local NYC musicians was a natural starting point for my career. Eventually I expanded my work to include shooting a wide range of portraiture and events. Regardless of the subject matter, my goal has always been to impart an element of freshness, spontaneity and risk taking to the creative process. Over the past several years, my work has seen a major shift in creative focus- to that of fine art photography. My photos lend themselves particularly well to large size printing. One of my favorite formats is to print on dye-sublimated aluminum. Printing on aluminum imbues an image with an inherent richness and depth; the finished artwork is both durable and archival. And because there is no glass or plexi layer separating the image from the viewer, the work literally seems to pop with vivid color and life. Simply stated, my goal is to help bring a sense of peace, color and beauty to the places where we live and work- be it a private home, corporate or hospitality environment. I'm excited to share my work with you!"
See more of John's work on his website or follow him on Instagram and Facebook.
Izzy Kapetanovic
Third Place
I am an avid photographer with emphasis on landscape, cityscape, abstract, architecture, travel and nature. After retiring from a long scientific research and administrative career, I've devoted most of my time to photography. I have won numerous awards in the area's photography clubs competitions as well online competitions and have served on the Executive Board of the Creative Photography Society. My images have been selected for several area photography expositions. Photography provides me with great enjoyment, relaxation and pleasure of sharing my work with others.
Visit Izzy's website.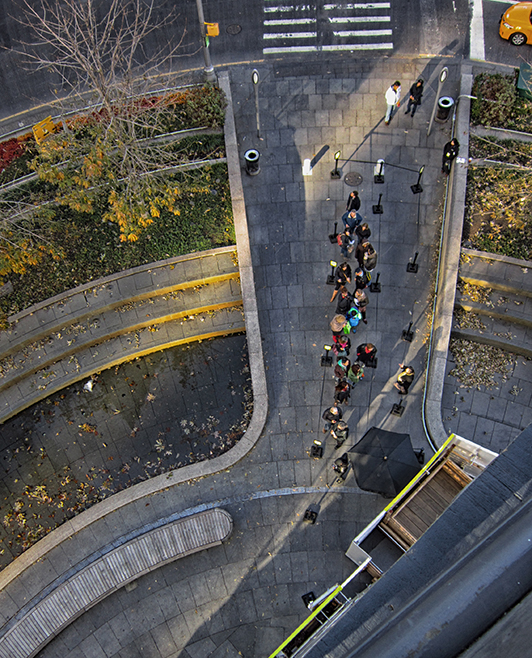 Honorable Mention
Vedhead Photography materialized from my psyche's journey to freely express a vision, a consequence of my spiritual emergence, with hope to share our stories along the way, seeking comfort and therapies in art to heal – each other as much as ourselves. I hope as my desire grows to learn new things about my craft, so does the aspiration to connect with remarkable communities of inspirational people.
You can see more of Kelly's work on her website or follow her on instagram @vedhead.
Honorable Mention
Professional photographer born in Lyon in 1968, Cyrille Dubreuil, member of the American Society of Media Photographers (ASMP) and French professional photographers union UPP (Union des Photographes Professionnels), has been specialized himself in the fields of architecture, industry and construction for almost 20 years. In Hong Kong where he lived from 2000 to 2006, he worked on city landmarks such as the two tallest towers (Two International Finance Center, International Commerce Center), the Ngong Ping 360 cable car, the Guangdong Province liquefied natural gas terminal and the CSPC Nanhai petrochemicals Project in China, working for major companies like the MTR Corporation, Henderson Land, Sun Hung Kai, Bechtel, Bouygues… as well as for the Government (Architectural Services Department). Back to Paris, France, he organized construction photographic follow-up of several electric power stations in Pont-sur-Sambre, Bayet and Toul, and worked with architects, agencies and property developers on public or private residential properties or offices. In Milan, Italy, from 2013 to 2016 he shared his time between France and Italy increasing his expertise in office buildings photography and large-scale logistic platforms. Now based in New York he will continue to build and offer his own vision and photographic aesthetic on the city and urban landscapes. His architectural or construction photographs can be found in many corporate annual reports or brochures, architecture agencies portfolios, public services communications tools and books.
View all of his work on his website and follow him on instagram.
Honorable Mention
Born in the UK Michael spent fifteen years living in Israel. It was only in 2000 when he joined the Tel Aviv Camera Club that he took photography more seriously, culminating in four solo exhibitions and TACC group exhibitions. During 2003 to 2004, Michael helped set up of Ventures Group of Song-writers, Poets, Artists and Photographers which was a group that mixed artistic outputs for various products and became the group Publicity Secretary. In January 2005, he returned to London and joined the Isle of Wight Photographic Society and the Hampstead Photographic Society and went on to serve the HPS as Programme & Publicity Secretary. During this time, he initiated the HPS Newsletter which he continues to edit. Michael has had numerous solo exhibitions and had acceptances in various group exhibitions including the Royal Academy Summer Exhibition in 2016 as well as in various international salons of photography. His work can be described as either documentary or artistic deciding which style to use depending upon the end-use of the image.
Honorable Mention
He is a recent graduate for the University of the Arts London working across variety of media. His sculptures, paintings and functional works show a contrast between home life and work. These images are part of a series addressing the need to make connections and to working in the city, shown with the ongoing project of producing work in response to each bridge along the River Thames in London.
View more of Adrian's work on his website.
Honorable Mention
Photography has been a significant part of my life for as long as I can remember and my love and passion has only grown. Through the years I have tried to hone my skills and learn new techniques to create pieces that translated emotion along with strong imagery. My preference is black and white photography and to capture spaces and places that have been abandoned and otherwise forgotten. 2017 was my debut year for public showings. Up until then my pieces were only shared among close friends and family. My first showing was with CAC at the Hospice of the Chesapeake just outside Baltimore, MD. Since that show I have been fortunate enough to have pieces in several shows in throughout Maryand and Virginia as well as various online gallery exhibits; most recently I was included in Artist Portfolio Magazine's photography edition and am currently participating in exhibits in Portland, OR and Frederick, MD.
View Brandi's work on her website and follow her on instagram and facebook @leauphotography.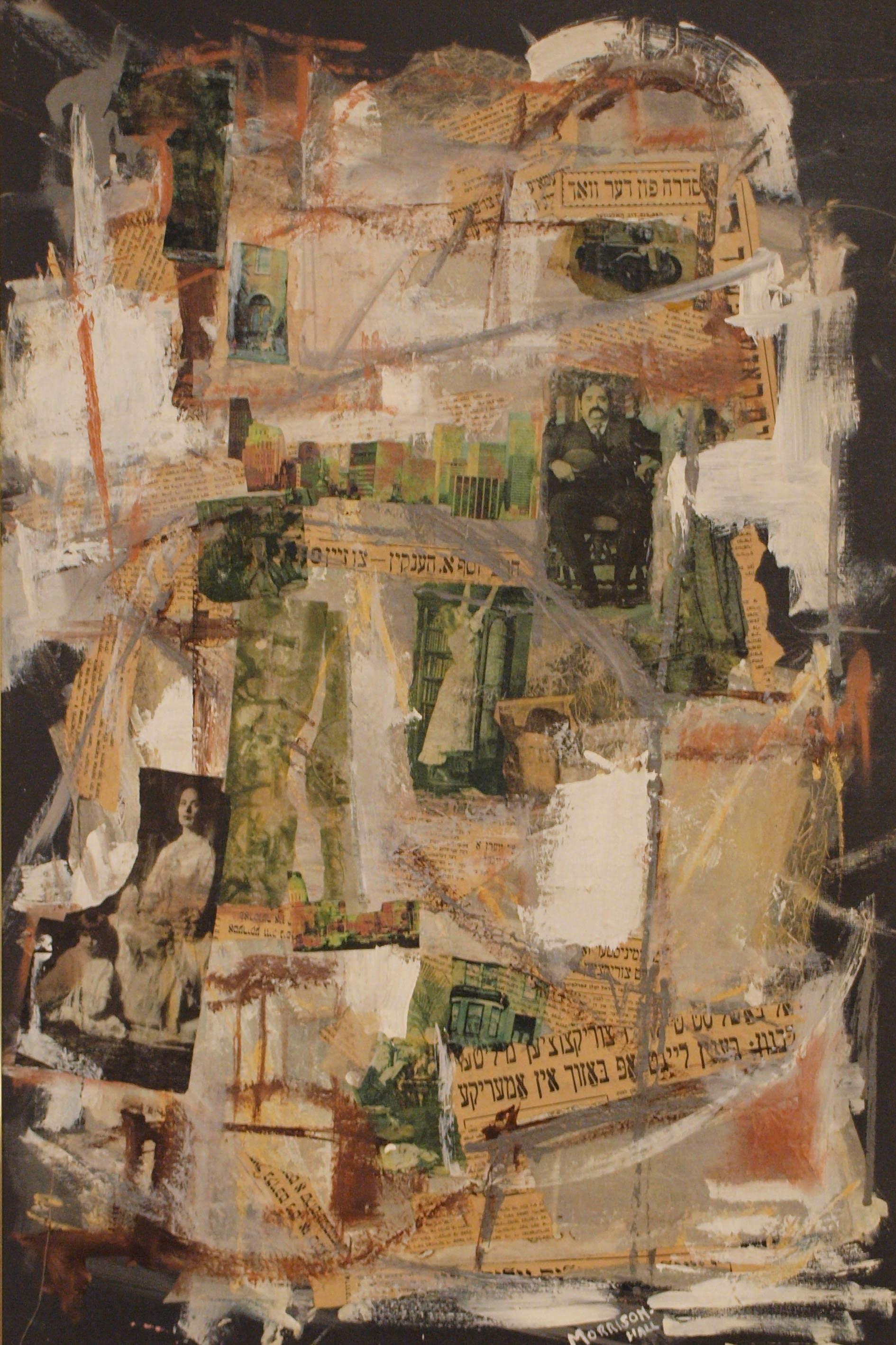 Honorable Mention
Since retiring from a successful career as an art educator, I have been able to focus solely on my own artistic exploration and expression. My many varied interests and inspirations have resulted in my grouping my artwork into what I call "series". Some of these"series" reflect different mediums,and/or styles of working. For a time, I felt that what appears to be a schizophrenic approach to my art was a weakness, not so any longer! Now I see my varied interests as a strength and sign of constant growth as an artist. The group of paintings I have submitted is my "Tenement Series", an homage to those who have immigrated to the U.S. and made it the diverse country it is today. This topic, a timely one, is reflected in the five pieces submitted here. Some are general in approach, and a few are unabashedly, semi- autobiographical in theme and choice of collaged images I have used in the works.
Visit Gail's website to see more of her work.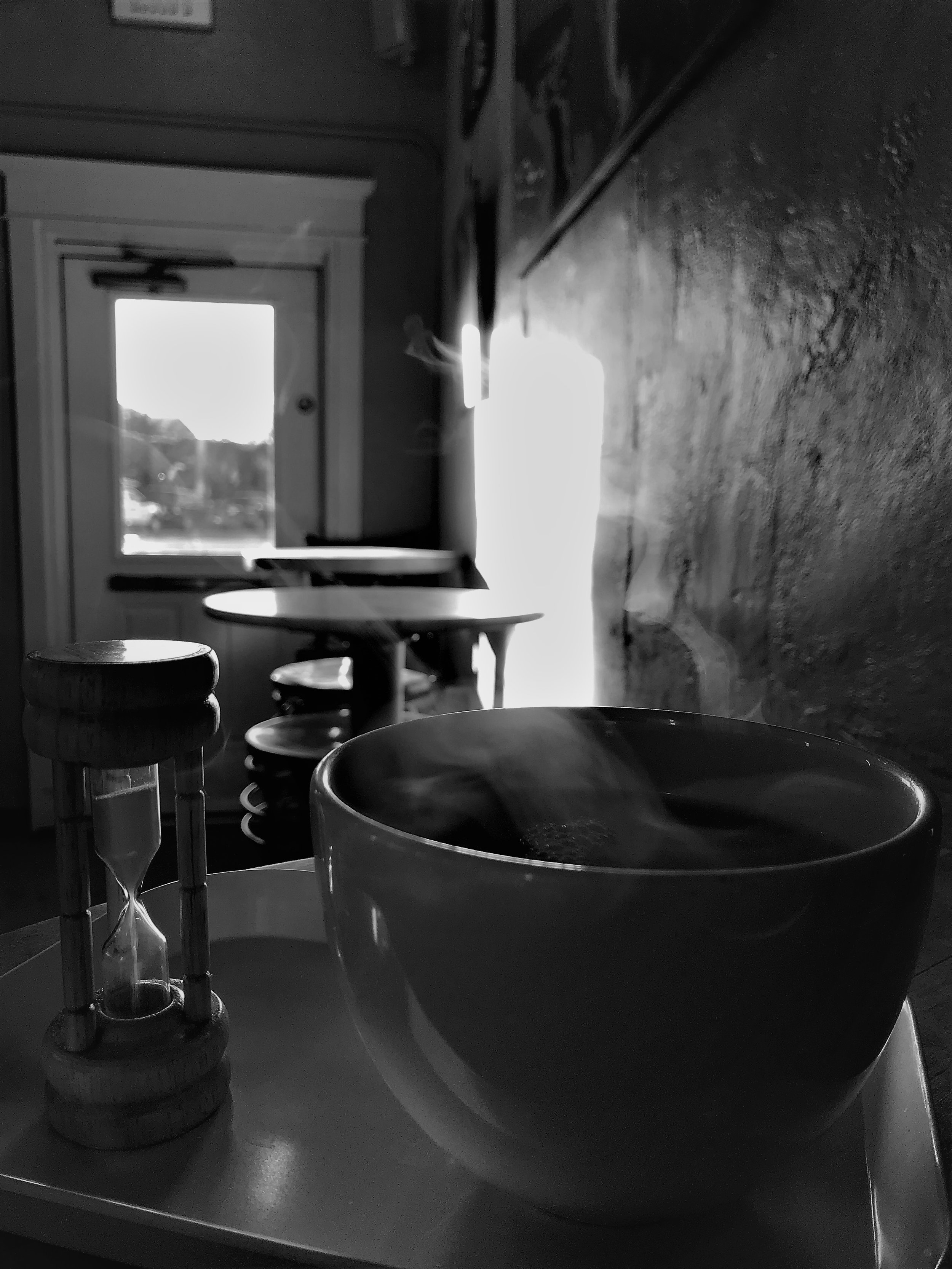 Honorable Mention
JJ Snow is a transgressive freeverse poet and zen photographer who hails from Maryland. Her great loves include getting lost in nature, her two pug dogs, the study of technological evolution in society, books, music and artwork of all kinds and her soulmate Matty. JJ derives inspiration for her photos and poetry by being in the moment and crafting her work based on momentary seconds of beauty that can be so very fleeting in today's fast paced, technology-driven, life. She currently resides in Tampa, FL.
Email her Jensnow47@gmail.com
Honorable Mention
An abstract painter for many years, Jeanne Wilkinson's current digital work is infused with a painterly sensibility. Her "CityScapes" series springs from seeing the city as a setting not just for the drama of buildings and skylines, but also for natural growth and beauty. In these blended pictures, the imagery originates from various sites in Manhattan and Brooklyn.
Wilkinson works with digital collages, animations and video installations in her Downtown Brooklyn studio, and her work has been shown extensively in New York City and worldwide. Her award-winning writing and artwork have been featured on NPR's Leonard Lopate Show and Living on Earth, in Adirondack Review, Columbia Journal online, and New Millennium Writings. She won an award in a Fusion Art contest in 2017 for one of her "City Symmetry" pieces. Her experimental videos have been screened at BAM, at the Greenpoint and New York Independent Film Festivals, and a video installation was recently featured in a one-woman play at the 13th Street Repertory Theater in Manhattan.
View her work on her website, and follow her on instagram, facebook and twitter.