Open 2019
Art Exhibition Monthly Winners
Below are the biographies and/or artist's statements along with the artist's websites or emails.
Please visit the Open exhibition page and contact the artists directly for purchase inquiries or to see more of their work.
Congratulations again to all the winners and thank you for sharing your talent with us.
Charcoal on Paper Cut Out
12 x 8
Ankica Mitrovska
First Place Winner
Ankica Mitrovska was born and raised in Skopje, R.Macedonia. In 2010, she received B.A in Studio Arts/Art History from University of Alabama in Huntsville, Alabama. In 2014, she received her M.F.A in Painting/Drawing from Wichita State University in Wichita, Kansas. Mitrovska has exhibited her work in many group and solo exhibitions in both national and international venues, including Alfred Gallery in Tel Aviv, Israel; Ko-Ra Gallery in Skopje, R. MacedoniaWAH Center in Brooklyn, New York; Limner Gallery in Hudson, New York; Rochester Contemporary Art Center in Rochester, New York; Craddock-Terry Gallery in Lynchburg, Virginia; Ulrich Museum of Contemporary Art in Wichita, Kansas; Huntsville Museum of Art in Huntsville, Alabama; Fiber Gallery in Wichita, Kansas; She is a featured artist in Studio Art Magazine (Vol.20), Direct Art Magazine (Vol.21), Venison Magazine (Summer Online 2015) and The Artist Catalogue (Winter Online 2016). She is a founder of Brashnar Creative Project Artist-in-Residence in Skopje, Macedonia.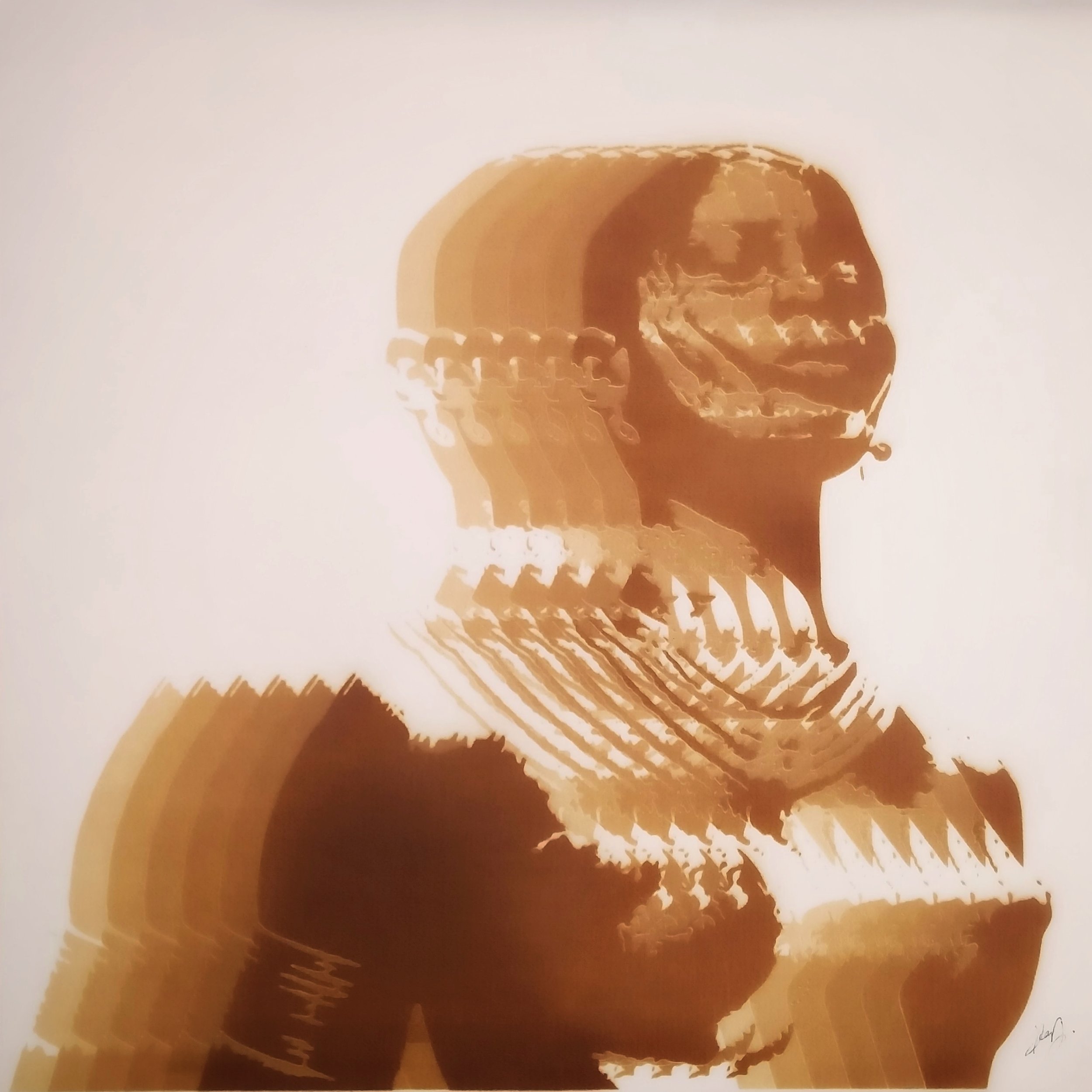 Valentine Louafi
Second Place
Defined as a paper lace-maker, Valentine Louafi made papercutting her speciality. An ode to minimalism that requires steadiness, patience and an ounce of perfectionnism, as "painting" with a blade doesn't give room to any mistakes. Her papercuttings offer a surgical precision combined with intricate and stunningly expressive portraits. "My work has always been drawn to the representation of silhouette due to its delicate sharpness. Its complex simplicity and strong contrasted nature evokes endless depth and meaning." It's an art of balance and an art of emptiness. To reveal the subject, you need to remove material. To build with the void. To build with the empty space. Void is necessary, in all existing things. From atomic scale to Universe scale. Negative needs positive, light needs shadow. THE CREATIVE PROCESS IS A METAPHOR OF THE CREATION AND ESSENCE OF LIFE ITSELF. My laser artworks are based on my own paper cut originals that I manipulated digitally. I look for depth, creating some sort of spinning light portals that absorb you, playing with lights and shadows to reveal the subject. Those are artworks constantly change depending of the point of view and lighting. You never see the same thing.
Gaylord Mink
Third Place
After retirement as a research scientist some 20 years ago, I became interested in wildlife and nature videography as a way to record and preserve natural activities that I witnessed. Over time I incorporated still photography as another recording medium. As my photographic skills improved, I, now, try to look at natural events and present them in a somewhat more artistic way. It is not easy for an old scientist to recreate as an artist.
Email Gaylord to get more information about his work.
Honorable Mention
Born in the UK Michael spent fifteen years living in Israel. It was only in 2000 when he joined the Tel Aviv Camera Club that he took photography more seriously, culminating in four solo exhibitions and TACC group exhibitions. During 2003 to 2004, Michael helped set up of Ventures Group of Song-writers, Poets, Artists and Photographers which was a group that mixed artistic outputs for various products and became the group Publicity Secretary. In January 2005, he returned to London and joined the Isle of Wight Photographic Society and the Hampstead Photographic Society and went on to serve the HPS as Programme & Publicity Secretary. During this time, he initiated the HPS Newsletter which he continues to edit. Michael has had numerous solo exhibitions and had acceptances in various group exhibitions including the Royal Academy Summer Exhibition in 2016 as well as in various international salons of photography. His work can be described as either documentary or artistic deciding which style to use depending upon the end-use of the image.
Honorable Mention
William T Erickson IV is a self-taught artist known to friends for his inexplicable and unusual style and subject. His works share the unsettling expressionistic flares of Salvador Dali and the animations of Andy Warhol. Bill's art medium is charcoals and colored pastels on large 26" x 32" paper. Most of his works are done in the early morning and inspired by loud alternative rock and punk music. Although Bill has drawn casually off and on most of his life, he didn't start concentrating on this craft until 2017 when he bought his first easel and started to document his works.
In 2018 and 2019, he was selected as finalist to numerous competitions and exhibits including the BWAC Brooklyn Waterfront Artist Coalitions International Exhibition of Album Cover Artwork, the Fusion Arts (Artsy.Net Gallery Affiliate) Gallery; the Colors of Humanity Art Gallery, the Light-Space-Times exhibit; the Contemporary Online Gallery, the North Carolina Pastel Society's Gallery, and the Bauhaus Prairie Art Gallery. Williams states that he strives for his works to "To capture the eye, turn the head, and then to stir the mind. If you don't get my art in the first three seconds, you don't get it at all" Born in New Jersey, Bill now resides in Jacksonville, Florida where he is a full-time Construction Management Executive
Honorable Mention
I wish to paint paintings that oscillate between the figurative and abstract. I am interested in capturing fleeting moments in life that often escape words. Through each painting, I wish to achieve a level of psychologically 'charged' presence. I chase after the intimacy, emotion, sensations that are so visceral but so often lost in desperate attempts at translation and communication. I am interested in these moments for it seems to blur the line between mind and body. I chase after moments in my painting where abstraction and figuration form a necessary companionship to achieve this moment of revealing and capturing the fleeting, intangible and invisible moments.
Honorable Mention
I am an avid photographer with emphasis on landscape, cityscape, abstract, architecture, travel and nature. After retiring from a long scientific research and administrative career, I've devoted most of my time to photography. I have won numerous awards in the area's photography clubs competitions as well online competitions and have served on the Executive Board of the Creative Photography Society. My images have been selected for several area photography expositions. Photography provides me with great enjoyment, relaxation and pleasure of sharing my work with others.
At the age of six Carlos Marcelo Lorenzana Montoya along with his family emigrated from Guatemala to Chicago, where he currently resides. At the age of thirteen; Carlos, discovered Street Art, using concrete and steel as his canvas. During his youth he defined his own concept of art to convey his ideas. After attending Robert Morris College, where he obtained an Associate's degree in Graphic Design; and followed by his continued education at Illinois Institute of Art in Chicago, his art began to branch out into new directions. Over the years, Carlos has developed an interest in ancient civilizations, ancient religions, the origins of humanity, mythology, spirituality and the exploration of one's consciousness through meditation. His Paintings help him develop an understanding of how all things are connected through the web of consciousness. Carlos aspires to make art that people can reflect upon and also open their minds to new possibilities. Namely the search for spirituality and a connection to the general consciousness, through a more abstract approach.
Email Carlos for information on his work.
I first started shooting film over fifty years ago but stopped for many years after my cameras was stolen. During the last five years, digital photography has rekindled my excitement with photography and continuing the journey I started with film. My previous film experience definitely informs my current color palette choices. I want my images to feel natural and not over processed. When faced with a choice during post processing, I'm remembering in my mind's eye the scene I captured and trying to bring that same emotion I felt to the finalized image.
I am a creative visual artist based in New York with an extensive background in graphic design, illustration, and fine art. My art is very personal and emotional, filled with color, energy, and movement. It often transforms from its original intent during the creative process. I love experimenting with various media, textures, styles, and exploring new themes. Art is my cathartic outlet for life's journey.
Kristopher is an award winning photojournalist, with 16 years in television news and 10 years in still photography. He specializes in landscape and nature fine art photography. His work has been featured in numerous art exhibits, and several publications. Born and raised at the Jersey shore, he loves to travel and explore the world around him.