Colors 2018
Art Exhibition Monthly Winners
Below are the biographies and/or artist's statements along with the artist's websites or emails.
Please visit the Colors exhibition page and contact the artists directly for purchase inquiries or to see more of their work.
Congratulations again to all the winners and thank you for sharing your talent with us.
Stuck Between The Devil And The Deep Blue Sea
Oz Van Rosen
First Place Winner
Oz uses intense color as a means of expression. Rather than focusing on the subject matter, she relies on deep saturated colors to project the emotional content in her works and to elicit an emotional response from her audience. Technology and how we express ourselves through this medium has always fascinated Oz. Her current work is part of the Glitch art movement- which is defined as randomly corrupting, bending and destroying data in a photograph or video to create an unpredictable aesthetic. The experimental nature of Glitch enables her to create completely unique images that defer to the whim of technology. She describes her work as "Abstract Techspressionism". Oz studied art at the New York School of the Arts but photography has always been her primary passion and a self-taught hobby. She made her career in Marketing and Healthcare, but recently took on art full time, after her father's passing. Her art has been influenced by all the places she has lived in; Europe, Canada, the US, the Middle East, and all the people she has loved.
Greg Moni
Second Place
"Life experiences need to be expressed through creativity to truly be alive. For we all are creative beings." My art is a special tribute to someone who greatly influenced both my art and my outlook on life. When my beloved father passed away, I found particular peace and solace in being creative and expressing my feelings through my art. I wanted to create art that I envision my late father must have been seeing through the windows of paradise. Through my particular approach to the abstract medium, I wish to bring a unique sense of spirituality to my art. My ultimate desire is for people to experience my work and be able to recall where they originate from cosmically and to understand that life's challenges will fade into time but that the universe is constant. That we all come from and are made from the stars. That these nebulas, I create, can give us a good healthy perspective about ourselves and our humble but significant place in the scheme of this vast universe. My hope is that, when people view and reflect upon my work, it will lift them up and inspire them to slow down, take a deep breath, allow their worries to fade, and be truly present in the moment. That they will, for that moment, be transported into an extraordinary world that reminds us all to live life fully and to love others unconditionally.
Carlos Lorenzana
Third Place
Over the years, Carlos has developed an interest in ancient civilizations, ancient religions, the origins of humanity, mythology, spirituality and the exploration of one's consciousness through meditation. His Paintings help him develop an understanding of how all things are connected through the web of consciousness. Carlos aspires to make art that people can reflect upon and also open their minds to new possibilities. Namely the search for spirituality and a connection to the general consciousness, through a more abstract approach.
Email Carlos for more information on his work cmlm21@gmail.com.n
Honorable Mention
Shauna Chapman's practice explores the practice of painting in the digital age, challenging how abstract painting can be pursued when this narrative can be faked or non-assignable, as a consequence of technology. Compositions are informed by digitally manipulated imagery and methods that ask the viewer to engage with - and question - the marks made on the surface, as multiple painterly techniques and a diverse matter of materials are entwined onto the canvas. By doing this, Chapman aims to produce imagery that asks us to appreciate the real layers within painting, at a time when we are confronted and consumed by the ruling of screens, as painting has a new urgency and purpose in providing a space away from them. Since graduating last July, Chapman has spent the summer on a painting residency based in Milton Keynes, where she was given the space and mentoring needed to continue developing her practice, producing a series of work shown in her first solo exhibition "Pour & Stain". Chapman is continuing her exploration of painting after technology, and is currently enrolled on to the MFA programme at Cardiff School of Art & Design.
Shauna's website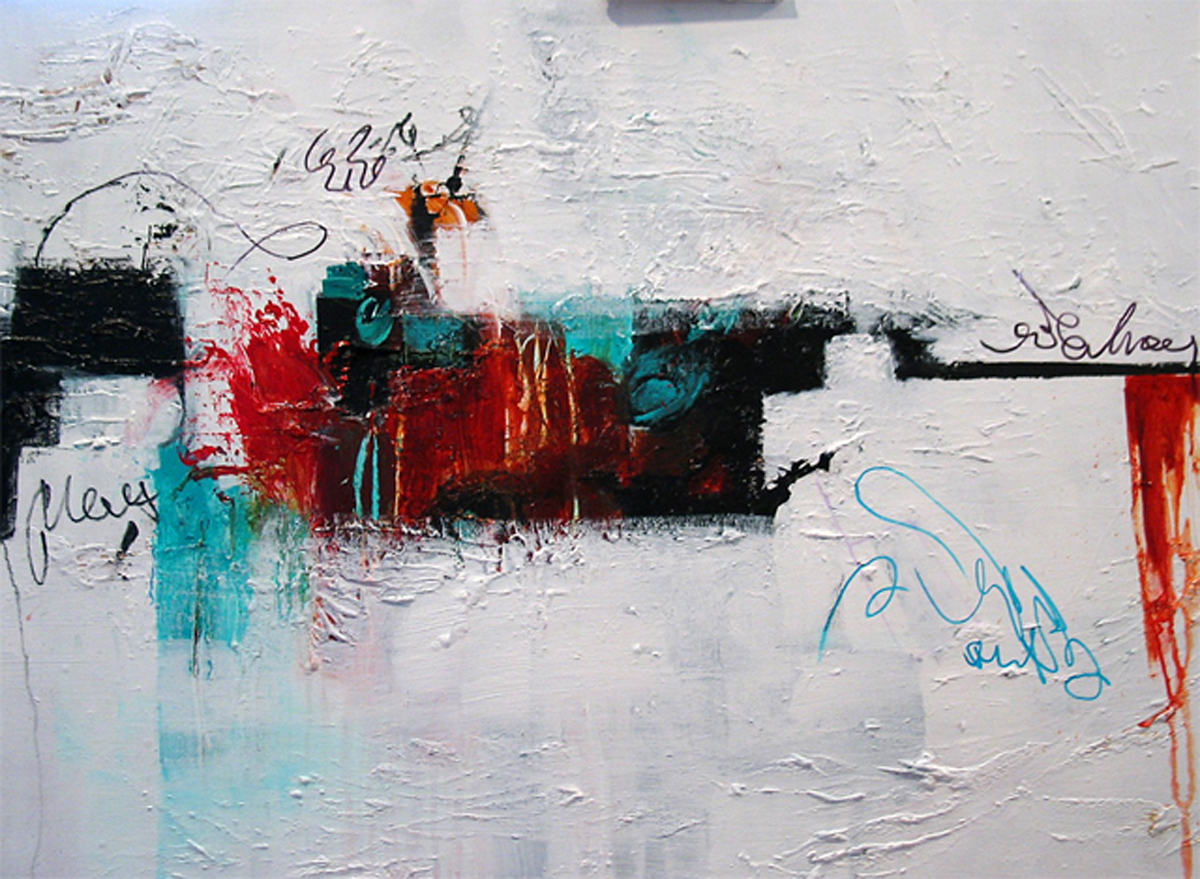 Honorable Mention
Leah Dockrill's art practice spans a thirty year period, and includes painting (both watercolours and acrylic); collage; and digital art. Within those broad fields she includes abstract imagery and realistic imagery. Moving from one genre to another energizes this artist, and one work inspires the next. It is the process itself that is fulfilling. If, however, the finished work affects the viewer in some way, or triggers a positive emotion, Leah says it has been a good day. Based in Toronto, Canada, Leah has exhibited work in both Canada and U.S., in both public and private galleries. She is an award winner and has been an elected member of the Society of Canadian Artists, since 2000.
Leah's website
Honorable Mention
I am an artist working in New Mexico, previously from NYC & CA. Also a master printmaker trained at Pratt and Simca Print Artists. I am using nature, geometry, marks and COLOR to create images which make sense out of my world. Watercolor and extended gamut process colors are my current media of fascination.
Jon's website for more of his work.
Honorable Mention
After retirement as a research scientist some 20 years ago, I became interested in wildlife and nature videography as a way to record and preserve natural activities that I witnessed. Over time I incorporated still photography as another recording medium. As my photographic skills improved, I, now, try to look at natural events and present them in a somewhat more artistic way. It is not easy for an old scientist to recreate as an artist.
Email Gaylord at gmink@charter.net
Born in Lucknow,India and graduated in Design from Bangalore University, Aatmica had a keen interest in experimenting with colors from early childhood. She started expressing her interest in art by making greeting cards from the age of eight. A self taught artist who expresses her thoughts using natural forms,textures,geometric shapes,patterns and a wide array of colors ! She has won many prestigious awards. The most recent was 'Bangalore City Merit Award 2018' by Prafulla Dahanukar Art Foundation,Mumbai. Her works are appreciated by various acclaimed artists. For instance- a renowned artist Mr. Milind Nayak praised her for her painting 'The Maha Kumbh' and Madam Sara Arakkal(Owner of Sara Arakkal gallery and wife of very famous Artist late Mr. Yusuf Arakkal) praised her for her painting 'India - A Miracle of Unity'. She has participated in over 25 exhibitions, both bricks and mortar and online, at national and international level. Her work regularly features in newspapers like 'The Times Of India' and 'The Hindu'. Also in 'Women In Art 278 magazine,USA'. She has clientele from India,France,Germany,Italy,Australia,Switzerland and USA. She lives and works in Bengaluru, India
Email her at subjectpredicate@gmail.com and follow her on Facebook and Instagram.
Born 1956 in Duesseldorf, Germany I had one of the world's most famous artists, Gerhard Richter, as an art teacher in school. That was 1969/1970. Before studying Art in 1980 at Tony Cragg at the Art Academy in Duesseldorf, I assisted in a Photo Studio. I was specialized in darkroom prints when the artist Joerg Immendorff became aware of me and asked me to make black/white image prints that formed the basic of his photo archives. In the following years I worked as an art and construction craftsman, taxi driver, bank employee, theatre actor and furniture designer, also I worked as a freelancer in the Gallery in Duesseldorf. In the period of 1993-2005 I travelled to some metropolises of Europe, Tunisia, Morocco, to the United States of America, Canada and the People's Republic of China. From 2013 until 2015 I opened an Art and Culture House in my current hometown of Moenchengladbach, Germany organized several exhibitions of International Artists.
JJ Snow is an aspiring amateur photographer who hails from Maryland. She focuses on the zen of capturing unique, fleeting moments that grant peace and perspective in a digitally driven and fast paced world. She was drawn to photography as a way to help balance her busy life as US Air Force Innovation Officer. Through pictures, JJ found a voice for emotions, moments and perspectives that often cannot be defined by words alone. She holds bachelors degrees in biology and political science and masters degrees in homeland security and defense analysis with a focus on emerging disruptive technologies. Her great loves include writing, photography, challenging the status quo, being outdoors and all kinds of art and music. She enjoys spending time with her two pugs and her dear love and best friend Matt. She currently resides in Tampa, FL.
Email her at jensnow47@gmail.com
She started to learning painting from 2012 and has now realized a longtime yearning to be an artist after retirement. She paints mainly in acrylic, mixed media and occasionally in graphite and oils. She also self educates from books, online information and by joining organizations in addition to learning from workshops. She is inspired by light and color and focusses to capture and reflect the diversity of nature in a realistic way. More recently, she has expanded her repertoire by working in the abstract forms of figures as well as general abstraction. Use of bright colors is one of her personal form of expression. Her vision of the subject is portrayed via colors, at times vibrant and occasionally subtle. She blends different properties of colors artfully - blending iridescence, fluorescence in addition to usual layering to create depth and optical illusions. She also uses mixed abstract shapes and geometric forms to energize her art.
Vasu's website.
I am an artist who explores various perspectives of contemporary celebrity culture through portraiture. I am fascinated and inspired by the music, aesthetics, dances, colors, flashing lights and personalities of these stars. However, at the same time I question –what is the cost of fame, glamour and appeal that are presented through this form of pop culture? My main work consists of portrait paintings of K-pop celebrities in non-conventional environments; a mix between fantasy and reality, with a palette drawing from both psychedelic and naturalistic colors, as well as a love for patterns. Through developing and challenging my work, I inquire how the media and arts (performing, literary and visual) influence one another, along with the viewer.
Rosemary's website.