Mind Body Spirit 2019
Art Exhibition Winners
Below are the biographies and/or artist's statements along with the artist's websites or emails.
Please visit the Mind Body Spirit exhibition page and contact the artists directly for purchase inquiries or to see more of their work.
Congratulations again to all the winners and thank you for sharing your talent with us.
Vasu Tolia
First Place Winner
Since my retirement from an academic medicine, I have elected tp pour my creative energy into art by attending workshops. Art has become my passion in life and I breathe and live it 24/7 …not always with a brush, charcoal or brayer but by visualizing next creation.
My paintings connect nature, humanity, space and are my main inspirations. The last has fascinated me especially since the discovery of the black hole. Each subject, whether a human, animal, still life, nature, space or abstraction is caught in a particular moment in time. By capturing such moments, I invite you to experience the intimacy of that subject. My work also depicts life experiences and memories. I like the viewer to interpret it in their own way to discern my language describing it as a painting. That way enables me to communicate on a personal level without words.
My major goal is to evoke a feeling of peacefulness, calm serenity or nostalgia— so I am painting a mood rather than an object. I try to convey all these exciting experiences I have visualized and perceive as I paint and strive to better every creation than the previous one. I like to try new techniques and versatility best describes my work. My interest in different styles and media add a unique dimension to my portfolio as I use a number of artistic eras including impressionism, post-impressionism and expressionism in both my abstract and representational work. Strokes and geometric shapes in different directions create texture, rhythm and forms in my paintings.
I am a strong advocate for human rights, specially women's. This passion inspired me to do a solo show depicting roles of women at various stages of life in different capacities. I continue to expand on this theme of empowering Women's Role in everyday life in the community, state, country and the world . I empower my muse - WOMAN - through art . Paintings women with different techniques makes my work becomes personally more meaningful. She also likes to explore newer horizons using color, texture and their relationship by experimenting further using processes of glazing, sanding, adding and subtracting in the background and in figures themselves. It is a true joy to see these characters unfold a new story. My women are role models disseminating love, peace and inspiration .My goal is to provide a spiritually uplifting experience while delivering my message of respect and equality for women to the world.
The process of painting makes me happy. I sketch out each idea as a Notan and then magnify and alter the original ideas as they evolve on larger surfaces. It is like a game to me. I use mixed media in all forms and lay down layers of paint and remove them from time to time also by scraping and relayering.
I am a member of Birmingham Bloomfield Art Center, Detroit Artist Market, Anton Art Center, Detroit Society Of Women Painters and Sculptors, Birmingham Women Painters Society and Scarab Club. I regularly participate in shows and competitions and have won several prized at these events.
Luiza Lavorato
Second Place
New York-based Luiza Lavorato is a fine-art photographer whose work focuses on figure studies, architecture, and the natural world. More recently expanding her repertoire to alternative methods, such as unique lumen prints and chemigrams. Originally from Brazil, she turned to photography after a career as an economist, doing coursework at the International Center of Photography. Luiza recently earned her Master's in Digital Photography from New York's prestigious School of Visual Arts, where she completed a year-long photographic study of the classical nude; Contour project.

www.luizallavorato.com
@luizallavorato

Digitally Enhanced Photography
50 x 48
Michael J. Duke
Third Place
Born in the UK Michael spent fifteen years living in Israel. It was only in 2000 when he joined the Tel Aviv Camera Club that he took photography more seriously, culminating in four solo exhibitions and TACC group exhibitions. During 2003 to 2004, Michael helped set up of Ventures Group of Song-writers, Poets, Artists and Photographers which was a group that mixed artistic outputs for various products and became the group Publicity Secretary. In January 2005, he returned to London and joined the Isle of Wight Photographic Society and the Hampstead Photographic Society and went on to serve the HPS as Programme & Publicity Secretary. During this time, he initiated the HPS Newsletter which he continues to edit. Michael has had numerous solo exhibitions and had acceptances in various group exhibitions including the Royal Academy Summer Exhibition in 2016 as well as in various international salons of photography. His work can be described as either documentary or artistic deciding which style to use depending upon the end-use of the image.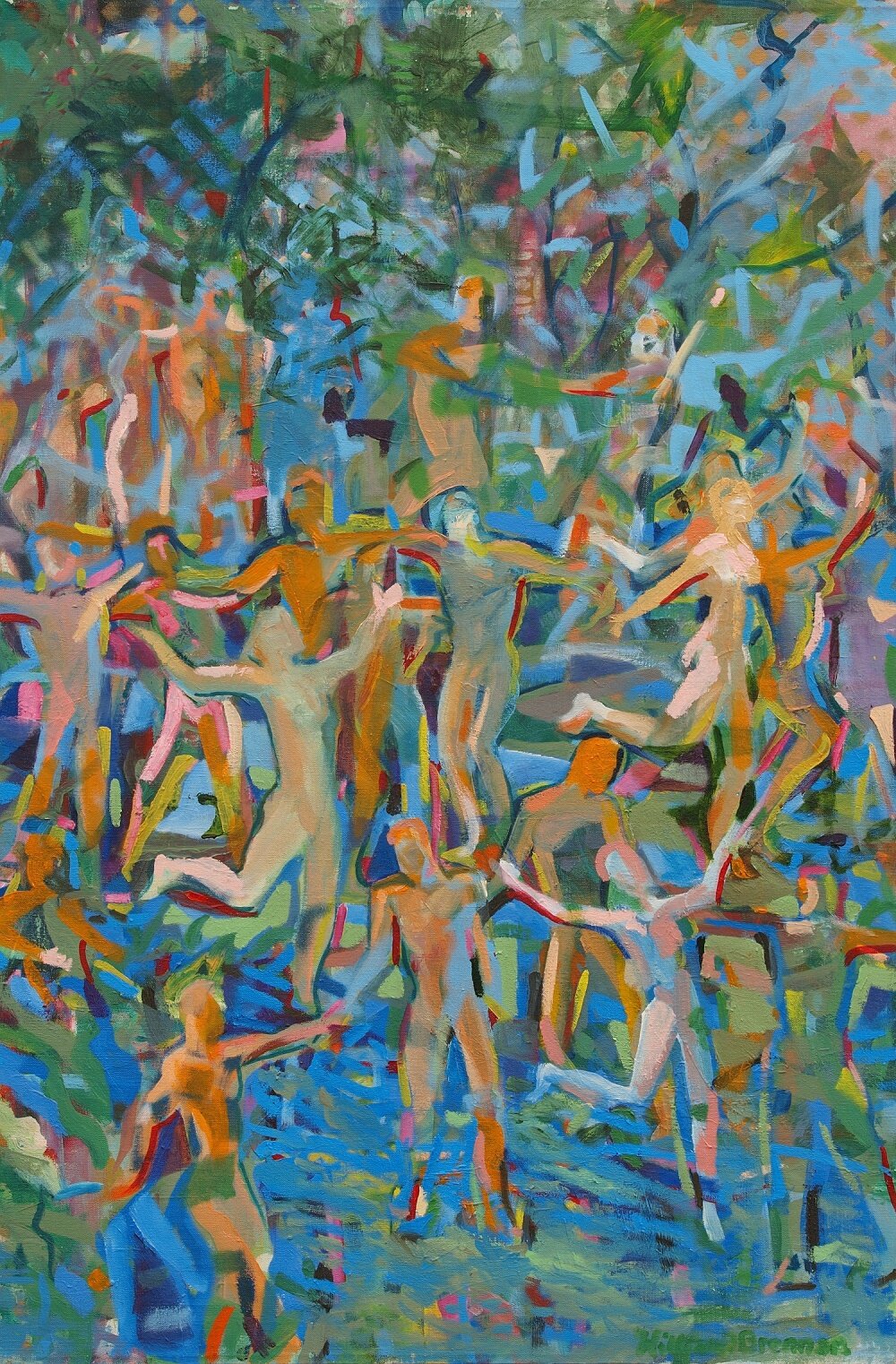 Honorable Mention
William Francis Brennan was born in 1949 in Massachusetts / USA. He grew up on the family's farm and started painting at age 10. From 1970 to 1980 he worked as an artist in Toronto/Canada and from 1980 to 2008 in San Francisco/USA. Since 2008 he is a resident in Berlin/Germany and works as an artist at his studio. Over the years he participated in several group- and solo exhibitions. He is an awarded artist. Some of his art-work deals with social, political and environmental topics. In general his art is a hybrid of ex- and impressionism. Many abstract compositions are developed thru experiment. Composition is developed by color, contrast and balance. Form and a sense of change – even motion are key elements in many paintings. Often his work overlays two subjects, either in conflict or in harmony. Compositions are often the result of an experimental artistic exploration. From painting to painting style can change: Realism, ex- and impressionism. He prefers keeping himself flexible and versatile. His art has a full spectrum of method and subject. He has limited formal training; he is motivated by pleasure of being creative.
Honorable Mention
Dustin Davis was born in Ashland, Wisconsin on November 21, 1945. He received his B.S. degree from Northland College, Ashland, Wisconsin in 1968. He received his M.F.A. degree in Art and Design specializing in 3-D Design from the University of Wisconsin, Madison in 1971. Dustin started teaching on the undergraduate in 1972 and is currently a full Professor at Frostburg State University in Frostburg, Maryland. He has exhibited in many International and National exhibitions. His work has been reviewed in the Baltimore Sun and displayed online the Light Space & Time, Fusion, and Fine Arts America Online Art Galleries.
Email Dustin at ddavis@frostburg.edu
Honorable Mention
East Hampton based artist Hildy Maze visually explores how the mind interprets and appreciates, distorts and projects the images we perceive and the thoughts and emotions we struggle with. Focusing on abstract contemplative figurative images developed with the view that art can awaken us to the obscurations that cloud our mind from recognizing the clarity of awareness that is our inherent nature.

With her experience of Tibetan Buddhist meditation, she uses oil on paper, drawing, painting, and collage intimately describe how our active mind creates collages of thoughts and patterns, as in a dream. If we examine our thoughts, we can see they are fragmented, impressionable, and empty of solidity. "None of us can avoid thoughts," she says, "but through awareness of our pitfalls, beauty, strengths, and weaknesses we can open windows onto the mind". She is interested in the study of how the mind works as a means of gaining insight into how we communicate, how we create an identity through form, emotions, and consciousness, and how we hide in that creation. She explains that essentially this work is about all of us and the empty, clear and unconditional nature of mind we all have.

Hildy has exhibited her work throughout the U.S. including NYC, Long Island City, Brooklyn, California, Bejing, China. She has won numerous awards and is in several private collections in the U.S, Europe and Asia.
Honorable Mention
Being in nature makes me feel connected with the universe. My aesthetic depicts the female figure in that environment, evoking the soulful side of femininity and emotions that may be hidden from those who know them, while simultaneously emanating strength of women's internal voice. My intent is to transport the viewer into my idyllic world where the mood is romantic and the women are portrayed as emotionally poetic beings. I would describe my painting style as the "New Nouveau". Trained in art since childhood, Alayne completed a Certificate of Fine Arts from the Maryland Institute College of Art in Baltimore, Md. and continues her studies at the Pennsylvania Academy of Fine Arts in Philadelphia, Pa. Alayne published her first book of illustrations and verse in October of 2010 titled "Dreams and Daydreams". Alayne participated in the International Biennial Portrait Competition at the Wausau Museum of Contemporary Art in 2019. She has been one of the featured artists in the Magic Realism series of books titled Imaginaire (Imaginaire XI, X, VII and V through www.fantasmus.com), and has been nominated three times by Watercolor Artist Magazine as one of the "Top 10 Watercolor Artists to Watch." She was published in the North Light Book Publication titled "Incite 4 – Relax, Restore, Renew, the Best of Mixed Media. Alayne was the recipient of the prestigious ARTV America Muse Award in Drawing in 2007 and was also nominated for the Muse Award in watercolor. Alayne holds Signature status in the following watercolor organizations: Philadelphia Watercolor Society, Central New York Watercolor Society, Baltimore Watercolor Society and the International Society of Experimental Artists. She is also a full member of the National Association of Women Artists and The Catherine Lorillard Wolfe Arts Club. Her work has been shown in numerous galleries within the United States and her paintings also reside in the home of private collections. Her painting "Pink Moon" is part of the permanent collection of the Southern Nevada Museum of Fine Arts. (http://www.snmfa.org)
To visit her website : http://www.alaynesahar.art