All Women 2019
Art Exhibition Winners
Below are the biographies and/or artist's statements along with the artist's websites or emails.
Please visit the All Women exhibition page and contact the artists directly for purchase inquiries or to see more of their work.
Congratulations again to all the winners and thank you for sharing your talent with us.
Alayne Sahar
First Place Winner
Being in nature makes me feel connected with the universe. My aesthetic depicts the female figure in that environment, evoking the soulful side of femininity and emotions that may be hidden from those who know them, while simultaneously emanating strength of women's internal voice. My intent is to transport the viewer into my idyllic world where the mood is romantic and the women are portrayed as emotionally poetic beings. I would describe my painting style as the "New Nouveau". Trained in art since childhood, Alayne completed a Certificate of Fine Arts from the Maryland Institute College of Art in Baltimore, Md. and continues her studies at the Pennsylvania Academy of Fine Arts in Philadelphia, Pa. Alayne published her first book of illustrations and verse in October of 2010 titled "Dreams and Daydreams". Alayne participated in the International Biennial Portrait Competition at the Wausau Museum of Contemporary Art in 2019. She has been one of the featured artists in the Magic Realism series of books titled Imaginaire (Imaginaire XI, X, VII and V through www.fantasmus.com), and has been nominated three times by Watercolor Artist Magazine as one of the "Top 10 Watercolor Artists to Watch." She was published in the North Light Book Publication titled "Incite 4 – Relax, Restore, Renew, the Best of Mixed Media. Alayne was the recipient of the prestigious ARTV America Muse Award in Drawing in 2007 and was also nominated for the Muse Award in watercolor. Alayne holds Signature status in the following watercolor organizations: Philadelphia Watercolor Society, Central New York Watercolor Society, Baltimore Watercolor Society and the International Society of Experimental Artists. She is also a full member of the National Association of Women Artists and The Catherine Lorillard Wolfe Arts Club. Her work has been shown in numerous galleries within the United States and her paintings also reside in the home of private collections. Her painting "Pink Moon" is part of the permanent collection of the Southern Nevada Museum of Fine Arts. (http://www.snmfa.org) To visit her website : http://www.alaynesahar.art
Mixed Media Collage
30 x 30
Leah Dockrill
Second Place
Leah Dockrill is a Toronto-based visual artist whose thirty-year art practice includes collage, painting and digital art. An award-winning artist, she has exhibited her work in both Canada and the U.S. In recent months, Leah's collages and paintings have been featured in several art and literary journals and reviews. Some of these are Cosumnes River Journal, High Shelf Press, The Esthetic Apostle, Mud Season Review, Split Rock Review, The Remembered Arts Journal, The Scriblerus, and Nunum. Leah has been an elected member of the Society of Canadian Artists since 2000.
Rosemary Lee
Third Place
My images are a combination of natural and man-made items, especially those scavenged and considered by some to be trash. I will always have a supply of bits of prints and other detritus in the print studio to use when printing. Some recent works have included the process of urban decay and decline of a dying industrial power base. Old factories, foundries, power lines and power sources are all incorporated into this series. All images build on my past experiences and artistic explorations. I frequently tear down older prints and overprint them, use as chine collee pieces or in a collage. Additionally, using these small bits, I've begun to make books. This is a new form of work for me which is quite exciting and opens up a world of new possibilities.
Email Rosemary at leert2@sbcglobal.net
Honorable Mention
Adriana Calichio is a Fine Art Painter living and working in Southern California with over 40 years of experience. She graduated at Pompeya's Art Academy in Rosario, Argentina at age 12, French Painter Oscar- Claude Monet's art work inspired her to become a professional Artist. Her medium of choice is oil and her work frequently includes different brush techniques which allows her the precision to render true to life expression and detail of people. On November 24th, 2018 she was featured on Artsy Shark Instagram Monthly Art Project . On January 9th, 2019 she presented a solo art Exhibition for The Associated Artist of The Inland Empire. April 6th a group monthly exhibition for Pomona Valley Art Association and The 38th Annual Art Exhibition on May, 2019 also from Pomona Valley Art Association. June, 2019 an Annual All Women Exhibition "Awaken"for The San Bernardino Art Association. Finalist for Fusion Art, Colors of Humanity Art Gallery, Art Room Gallery Online, Light Space & Time, J. Mane Gallery and her art work was also recognized on Envision Art Gallery facebook media. On January 5th, 2019 she won the All Women Art Exhibition Special Recognition Category for Excellence in Art from Light Space & Time Online Art Gallery. April, 2019 Adriana Calichio was awarded with Special Recognition from Light Space & Time Online Art Gallery with their 9th Annual Figurative competition. Certificate of Exhibition from Envision Arts for their Spring Fling Theme on April 5th, Emerald and Amethyst A Fine Collective on May, 2019. 9th Annual Animals 2019 Art Exhibition, Excellence in Art Award from Light Space & Time Online Art Gallery on May, 2019. Flora & Fauna 2019 Online Art Exhibition, Noteworthy Award, Bauhaus Prairire Art Gallery, May, 2019 Black & White Etc. 2019 Online Art Exhibition, Noteworthy Award, Bauhaus Prairie Art Gallery, April, 2019 Flower Power Online Painting Competition, Merit Award Certificate, Camelback Gallery, June 2019 555 Special 2019 Art Exhibition, Special Merit from Light Space & Time Online Art Gallery on June, 2019 555 Special 2019 Art Exhibition, Special Recognition from Light Space & Time Online Art Gallery on June, 2019 People Art Exhibition, Honorable Award from Gallery ring on June, 2019 February 14th, 2019 Adriana Calichio became Featured Artist for Camelback Gallery. March 3rd, 2019 Featured Artist for Artist Portfolio Magazine April issue. April 24th, 2019 Featured Artist for Artist Portfolio Magazine . She sees her Art work as a showcase of passion and desire to paint, to share her creations and leave a lasting impression to those who view them.
Honorable Mention
A self-identifying "Creative" The Artist is poet, photographer & mixed-media artist from Portland, Oregon. Diagnosed with Bipolar Disorder, PTSD, ADD and Disassociative Fugue. She attributes her survival and current wellness to her invaluable support network, personal accountability, mindfulness practice. and practicing creative expression in Words, Sounds, and Images.
Email Lindsey at empowermenthouse@gmail.com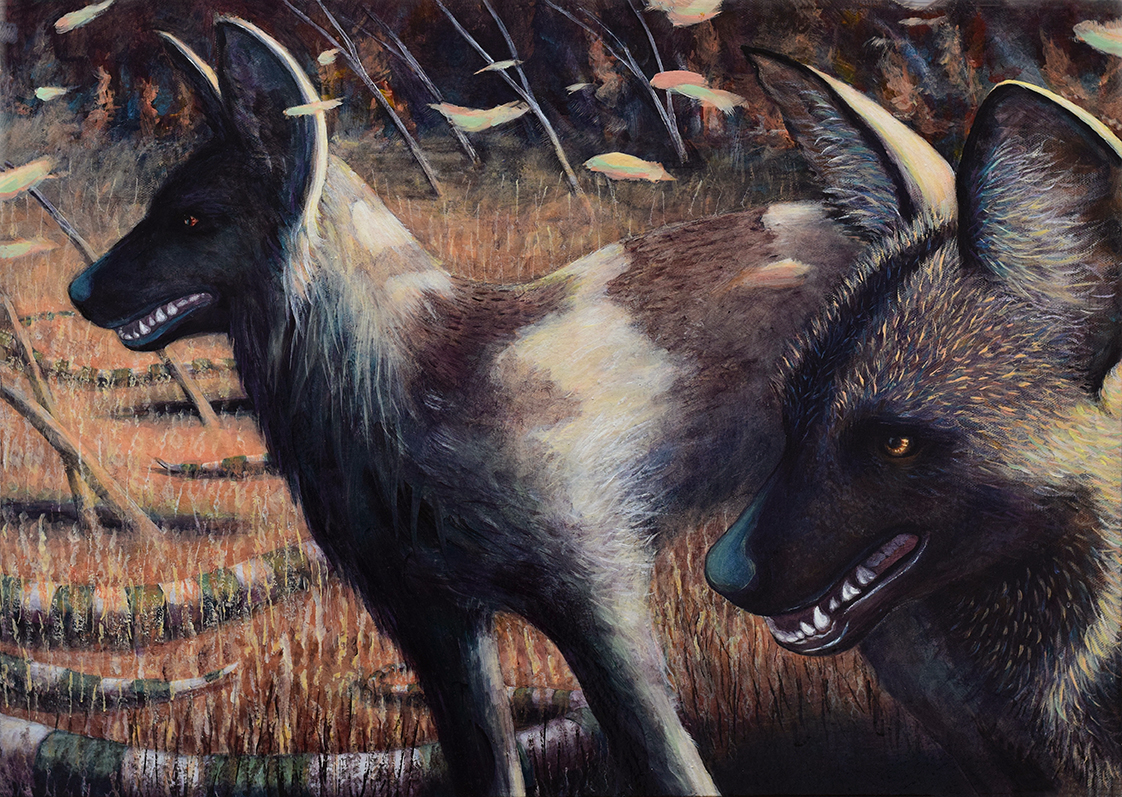 Honorable Mention
Primarily painting with acrylics, Henderson's artwork focuses on images of individual animals in relationship to each other, within the context of various types of natural or urban environments. The images are painted expressively while retaining structural accuracy in animal forms. The environments in which the animals find themselves present a moment in time, where the creatures and the unseen viewer cross paths in a brief encounter. Some of the artworks are about color and patterns found in nature, some present a deeper view of the nuanced relationships that exist between animal and environment, predator and prey. These meetings or moments in time may also be viewed as a reflection of dark spaces and predator/prey relations found within human nature. Henderson's recent works are focused on animals' vulnerability for survival due to the results of climate change, pollution and other environmental threats.
Honorable Mention
Our lives are filled with rules and judging. As children, we are taught that if our socks don't match, we are wrong. I chose to break the rules by creating my fictional creators and scenes, I hope to show that breaking the rules is not only enjoyable, it is very freeing. To paint flowers inside a bug or add sneakers on a duck and then to realize that nothing bad is going to happen is simply joyful. In my art, I hope to rekindle in others, the ability to enjoy their imaginations like when they were a child. To let go of the rules that we are able to and to be proud of the unique individuals that we are.
Honorable Mention
I'm very passionate about photographing farm life. I never grew up on a farm, but I had livestock growing up. You could say I have agriculture in my blood, because I have farmers on both sides of the family. I find them to be down to earth people. I feel a connection to them and feel a calling to advocate for them. There are many people who are ignorant to what actually happens on a farm. I feel that I can show how things truly are and foster a new understanding of the American farmer. It's unbelievable how beautiful the world is to me. I think growing up in rural Ohio has given me a love for country life and nature. It's colorful in the summer, spring, and fall. In the winter, it's what I call the dead season, but it's still beautiful to me. The trees don't have any leaves, but you can see every turn and curve in the tree branches. Spring is when life starts to creep back into the world. Trees begin to sprout new leaves. Flowers poke their heads out of the ground. Summer is the best time of the year. Everything is so green and it's even more green after a rainfall. Fall is the season where trees turn bright colors.
Honorable Mention
Hildy Maze is an American artist born in Brooklyn, NY. She received a BFA from Pratt Institute. Her work is influenced by her 25-year study and practice of Tibetan Buddhist meditation. Hildy is best known for her oil on paper abstract contemplative drawing, painting collages, exploring the investigation of mind through art. Though her process and handling of materials she intimately describes ways the flawless nature of the essence and expression of the mind is hidden from our recognition. Hildy has exhibited her work throughout the U.S. including NYC, Long Island City, Brooklyn, California, Beijing, China. She has won numerous awards and is in several private collections in the U.S, Europe, and Asia. Hildy presently lives in East Hampton, NY.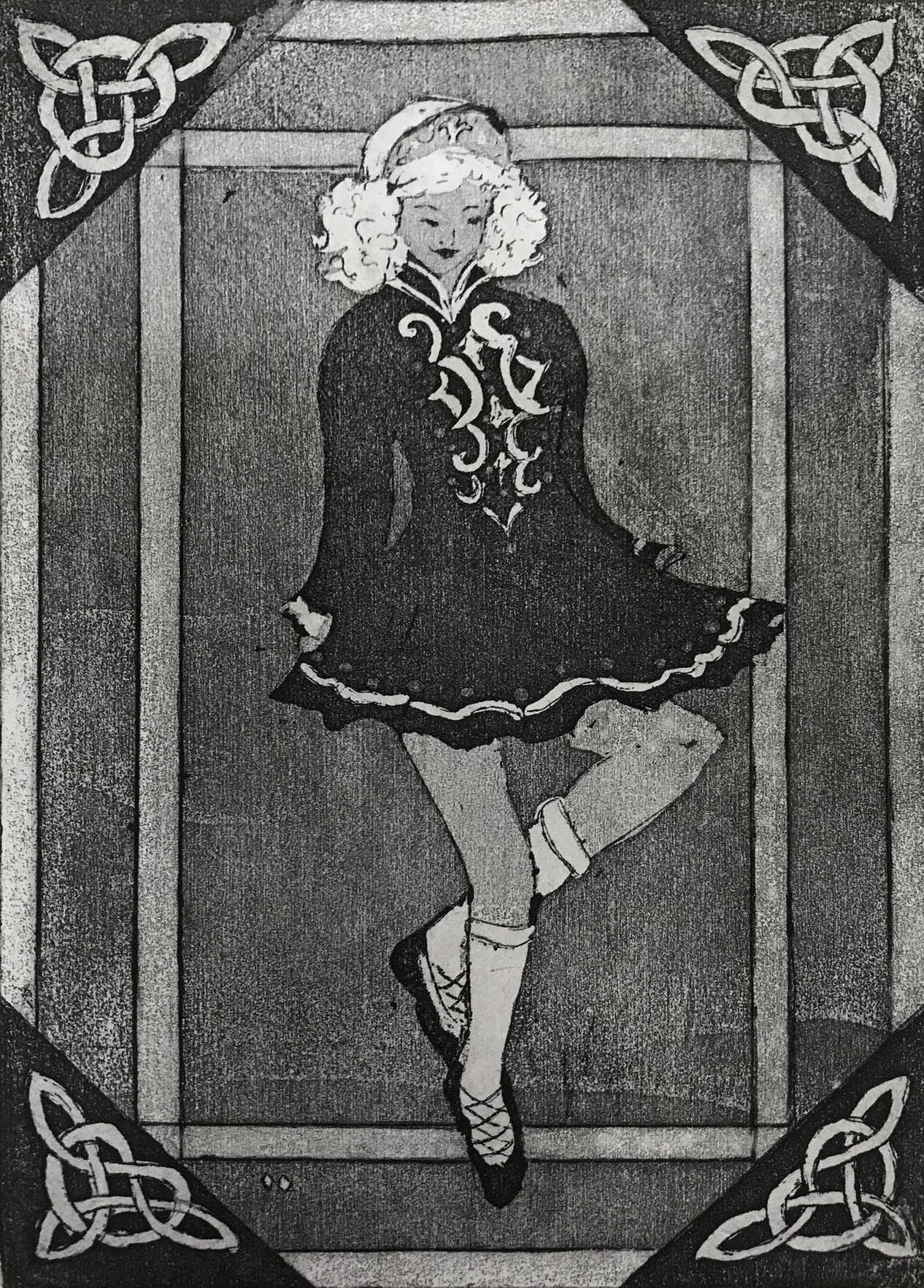 Honorable Mention
Barbara is an award winning writer and artist (painter and printmaker), who relocated to Winston Salem from the Boston area, where she taught art for more than 25 years. She holds a graduate degree in Art History from Harvard. As an art historian, she loves reinterpreting traditional techniques for contemporary audience. For this series of "Nine Ladies Dancing", she has adapted the etching processes using non-toxic materials. Instead of an acid bath on a copper or zinc plate, she has used a non-toxic, copper sulfate solution with salt to etch an aluminum plate. The variations of tone from white through grays to black are achieved by leaving the plate in the etching bath for different lengths of time and "stopping out" the etching processes using shellac. When the aluminum plate is etched to her satisfaction, she prints the image on her home studio press, using non-toxic, water soluble inks.
Honorable Mention
Many of my clay sculptures depict female subjects and feminine forms from my own creative visions, to empower and inspire the feminine balance in this world. The need for creation became reinforced with the birth of my own child and the desire to heal, protect and empower. I felt the need to portray feelings, needs and a visual conversation within the sublime. Symbolism transcends the physical into the spiritual realm. My goal is to bring my art forward to public spaces so that passersby can find peace, beauty and healing connection for a moment in time in their life's journey.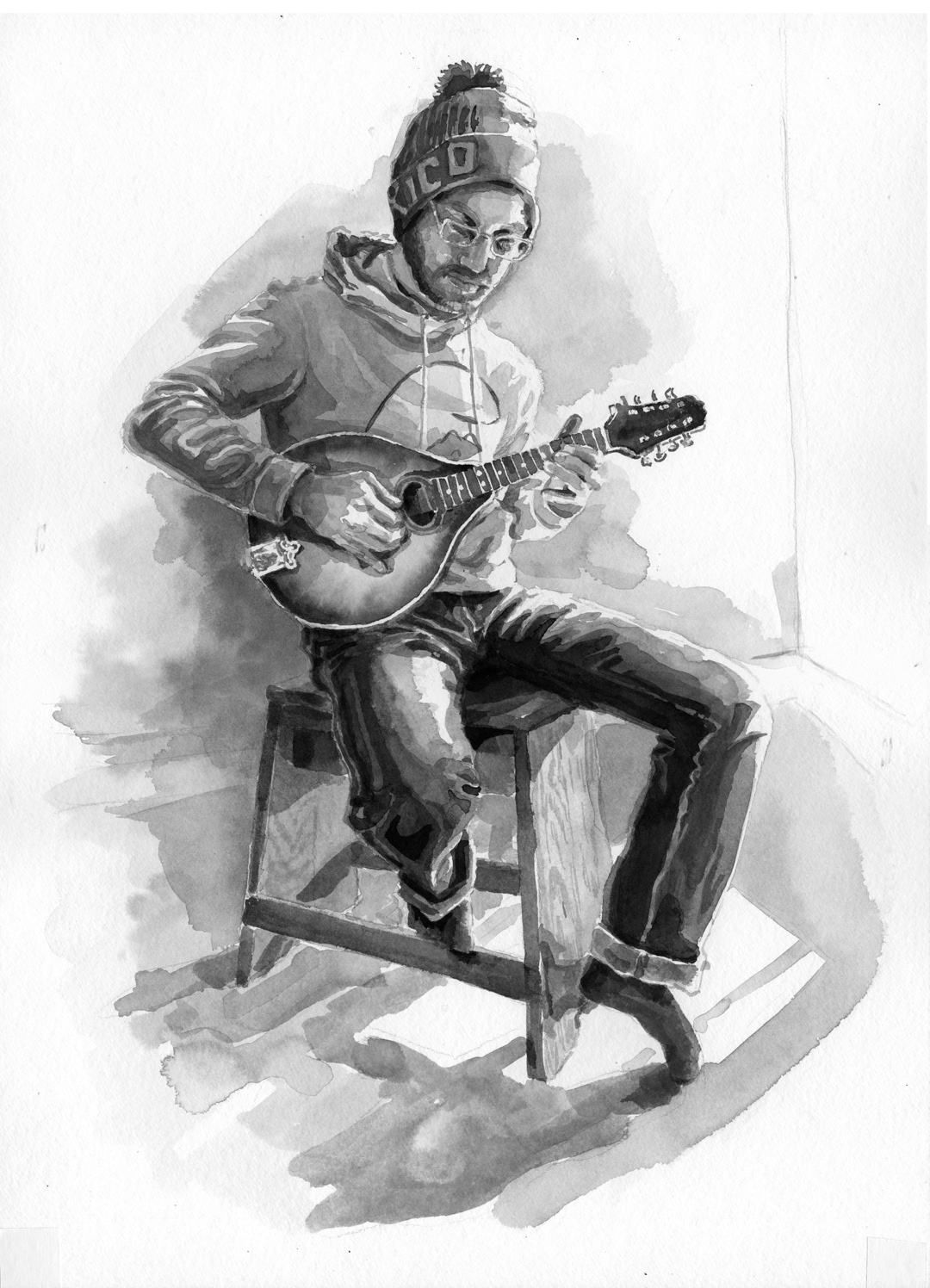 Honorable Mention
Amy Raudenbush is a retired newsroom artist who now engages with the human figure. She has a special interest in representing the buskers of Philadelphia.
Email Amy at raudenbusha@gmail.com
Honorable Mention
Rosemary Ye is an artist who graduated from the San Francisco Art Institute with a BFA in painting. As someone who rarely does self-portraiture, she wanted to create a painting where it is much of a reflection on herself, where she came from and how the countries she reside in shape her cultural identity. She was born in China, moved to Canada with her parents when she was 4 years old and lived there until the start of her undergraduate degree. Rosemary has since then lived on both east and west coasts of the United States and studied abroad in France and Japan. Her main artwork explores various perspectives of contemporary celebrity culture through portraiture and is prominently inspired by K-pop culture —which is part of the ongoing global phenomenon of the Korean Wave. Currently, she has several new series of artworks in progress.